I continually review new products, programs, and services as they become available in the market or in pre-launch sourcing out the highest quality training and resources that also deliver exceptional value for you. I will periodically update this page by posting my reviews and highlights of program that I fell confident will add value for you, help grow your business and enhance your life. Please feel free to contact me with product and services recommendations for future review and consideration.
Contact: james@AskJamesHolmes.com
Attraction Marketing Courses Reviewed

I recently completed a review of three of the most popular attraction marketing courses all of which I endorse after purchasing the courses, completed a thorough review of the material and testing the support and resources provided with each affiliate program. These are high quality courses by many of the most highly respected trainers in the network marketing profession. I am a BIG proponent of attraction marketing and I truly believe you cannot go wrong by incorporating any of these programs in your business funnel. I have implemented all three.
1. Mike Dillard's "Magnetic Sponsoring"
I have grown to have a tremendous amount of respect for Mike Dillard, his flawless reputation, and his integrity. I have consistently walked away from any exposure to Mike Dillard feeling like I just experienced a business leader who truly has the best interest of his customers and affiliates at heart. In addition to providing a series of exceptional training programs, he talks about mindset and challenges his audience to strive to enter into their greatness in order to achieve the loftiest of goals.
I particularly like the style and content of Mike's lead capture system the same one that every affiliate has to implement in their businesses. The ethical bribe I like most is his seven part attraction marketing video tutorials. These can be used on your blogs and websites allowing you to offer a high value "free" training program for anyone who would like to opt into your list. This is a great list building tool.
The course itself is delivered with a number of resources including the flagship e-book "Magnetic Sponsoring," which can also be acquired as a physically delivered product.
For an overview and access to 7 Free high value video tutorials follow the link:
Unique Value Proposition From The Magnetic Sponsoring Sales Page

How to make $500 to $1,000 your first

month

in network marketing… without sponsoring anyone or selling your company's products!

*see earnings disclaimer*
How to contact thousands of network marketers

already

looking to join your opportunity… without making a single phone call or spamming anyone.
The #1 "clumsy mistake" people make with their

mouths

that kills their chances of signing up new distributors.
Why you should almost NEVER sponsor "excited" prospects… and why

lazy

people often make the most money in MLM.
A secret way to get hundreds — even thousands — of people to join your downline at the same time without even mentioning your company or business!
The fastest known way to quickly "position" yourself as an expert and attract leads

to

you

— even if you're brand new to MLM and know

nothing

about the business now.
Why "opportunity seekers" are the WORST people to sponsor!
A "can't miss" way to

instantly

gain the respect and admiration of every single network marketer in your company — even if you haven't sponsored anyone yet!
The "Donald Trump" secret to effectively answering questions and objections from MLM

skeptics

.
What to do with your

eyes

to command respect from almost

everyone

you talk to.  (You can actually see this secret "in action" in most James Bond 007 movies.)
The ONLY people you should ever market your retail products to!  (Do this and selling

thousands

of dollars in products each month is like taking candy from a baby.)
An "almost magic" way to create 100% duplication within your downline!
The "big lie" of genealogy lists… and why you should avoid them like the

plague

!
Why the best way ever discovered to make money in MLM… and make it

fast

… is to do the exact OPPOSITE of what most other network marketers do.
A quickie, "idiot's" guide to consumer psychology — often used by

cult leaders

and other persuasion masters — that lets you instantly tap into the buying "hot buttons" of everyone you talk to.
Why telling your prospects your company is "debt free" and does billions in sales will actually

destroy

your chances of signing them up!
The most common "sales killing" mistake people make when sending email to their prospects.  (Do NOT send another email to another prospect, customer or lead until you read this!)
The

only

two things you should send a prospect who wants more information. (Hint: This has NOTHING to do with your product, company or compensation plan.)
How to get your entire downline to loyally follow you to another MLM company… with the push of a

button

!
How to immediately get your newest reps into a positive cash flow. (Making it almost

impossible

for them to ever want to quit or leave your team.)
A sneaky (but 100%

legal

) way to get industry leaders

outside

your company to recruit people into

YOUR

downline!
For a tour of the Renegade Professional System follow the link:
Unique Value Proposition From The Attraction Marketers Manifesto Sales Page
Start generating your own "pre-sold" prospects.
Paced for the beginner… Perfect to use to train your team.

See

the actual locations where you set up YOUR marketing… we take you step-by-step…

you're never left guessing what to do next

.

Learn to get paid

as you generate massive leads with Blogs, SEO optimization, E-zine & article submission, Social Networking, PPC, & more…
The system is uniquely designed to promote YOU… not the system's creator.
It's all here in ONE place… like you've never seen before… and you simply follow it step-by-step in precision '

Show Me How to Do It

' detail.
For details concerning Brad Weinman's Attraction Marketing Blue Print:
Attraction Marketing Blue Print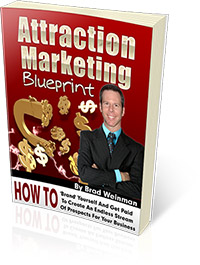 Unique Value Proposition From The Attraction Marketing Blueprint Sales Page
Imagine…
| | |
| --- | --- |
| | NO more cold-calling and painful rejection |
| | NO more 3-way calling |
| | NO more chasing leads – forever! |
| | NO more leaving messages with flaky tire kickers that never call you back |
| | NO more 'money pit' ideas that only produce more debt instead of leads |
| | NO more buying leads, period |
| | NO more friction within the family, due to a lack of funds |
I Am Proud to Recommend the Products and Services of Ali Brown
Featuring her "Online Business Blueprint System"
Ali Brown will show you how you as a solo-preneur or small business owner can utilize email, the Internet, and information product marketing to leverage their business to create an additional $1,000, $10,000 or more per month in income easily and consistently regardless of the economy. Ali makes takes you step by step through her blueprint using a variety of tools include newly produced DVDs.
A Life-Changing SPECIAL ANNOUNCEMENT for
Coaches, Consultants, Authors, Speakers, and Other Solo-preneurs
Visit Ali's Website to Learn More and Order the "Online Business Blueprint System"
Here is What You Receive (including Bonuses):
I get the complete VIDEO DVDs of Ali's entire Online Success Blueprint® Workshop that I can enjoy in my DVD player or computer.
I also get the complete AUDIO CDs of the entire workshop that will play in my car, computer, or in any CD player.
I understand I also get the 11-section Blueprint BINDER outlining my plan for turning my coaching or consulting business into an online money machine!
In the binder, I also get dozens of pre-written outlines, notes, samples, and examples that I'll use and refer to as I go through all the audio and video sessions, and also many templates and worksheets I can use for my website, ezine, and marketing efforts.
I get Ali's actual Online Success BLUEPRINT — an 11″ x 17″ full-color poster, outlining my new plan to transform my business this year. Plus I get a full-size fill-in-the-blank Blueprint for my own custom plan.
As a BONUS, I also get Ali's personal "Million Dollar Resource Rolodex," giving me inside referrals to the people, tools, and resources that Ali uses and that work.
Finally, I'll receive a membership in Ali's exclusive Silver Mastermind that includes monthly calls with Ali and her hand-picked experts, online digital recordings, and the exclusive new Ali Magazine mailed to my home. I'll receive all this for only $9.97 per month! Subsequent months for International members will be billed at $14.97. (Membership is optional.)
I understand that I'm investing in Ali's Online Success Blueprint System at NO RISK whatsoever, because it comes with a full money-back guarantee, which I can request anytime up to an entire YEAR from purchase.
Who is Ali Brown:
Ali Brown is CEO of Alexandria Brown International Inc., a multimillion dollar company devoted to empowering women around the world with the tools to live the freedom-based lives of their dreams.
Ali's journey into entrepreneurship was a natural one when — after hopping from job to job in New York City — she found herself frustrated and unemployable by her nature of always wanting to change things and improve upon them. After deciding to leave her final job in 1998 at a small New York City ad agency, she reviewed her options and chose the opportunity of owning her own business.
Not quite sure what to expect, and without a mentor or role model, Ali took it upon herself to learn what it takes to be successful. She immersed herself in books, audios, and courses on marketing, success, and prosperity. She was especially excited about online marketing because of its dynamic nature, low cost, broad reach, and easy accessibility for everyone.
Using a hand-me-down computer gifted by her younger brother, and working out of her tiny 5th floor walk-up pre-war apartment, she began using the power of online marketing to build her business. She became known as the Ezine Queen™ after becoming extremely adept at marketing her business via email newsletters, or "ezines", garnering her clients like New York Times Digital, Adweek Magazines, Scholastic Books, and Dun & Bradstreet.
When business owners began asking Ali for online marketing advice, she jumped on the opportunity to quickly create and sell her first online information product, an e-book titled Boost Business With Your Own Ezine, which is still one of her best selling training products today. From that moment on, she fast became the foremost authority in driving sales via e-mail publishing.
From there Ali began sharing her complete online marketing and information marketing formulas via products, coaching programs, and her own seminars, which combined have grown into the multimillion dollar company that Ali runs today. Her ezine, "Highlights on Marketing & Success" (formerly "Straight Shooter Marketing"), has over 36,000 subscribers around the world, and she currently has more than 800 solo-entrepreneurs enrolled in her high-energy coaching programs. Her marketing and success training products have helped thousands of them use email and the Internet to leverage their expertise, gain a broader reach, and dramatically increase their incomes.
While Ali's best known for her expertise in marketing, her students share that her biggest impact comes from her philosophy of "designing your business to create an extraordinary life™" — ensuring your business revolves around your own personal values and lifestyle. This, Ali says, is the most important key to bringing a business owner their ultimate wealth and happiness.
Maria Andros Launched Her Social Media Traffic Blueprint on April 7, 2009.
This Program Sold Out in 48 Hours, but wait…….

The program Should Re-Open to New Students in the Next Few Weeks
This is one of the most exciting and most anticipated launches of 2009 for a couple of reasons; first, Maria Andros known as the "Video Marketing Queen," is a master at using video to literally hypnotize her audience and deliver pearls of actionable content in the same moment. The quality of her work rivals that of the great Frank Kern and Dennis Karganilla. Maria's her ability to illustrate the value of video is superb. Secondly, to my knowledge the subject of video hasn't been taught at this level for application by the solo-entrepreneur to build a following and effectively market their products and services.
By visiting the pre-launch page here: Social Media Traffic Blueprint you can view an introductory video and if you are smart, you will opt in and gain free access to a series of content rich highly produced videos leading up to her launch of the video coaching program. To date Maria has released videos on a number of subjects:
1. How to Create Videos that Captivate – Featuring the "Five Cs to Captivate Your Market"
2. Optimizing Your Twitter Profile – Featuring ten actionable recommendations
3. The 80/20 Rule – This one can transform your business
I strongly recommend this program based on knowing the quality of Maria's work and the importance of effective video for online marketing. My advice is to sign up to be placed on the early bird notification list here The Social Media Traffic Blueprint so you can gain access to the free video training and notification emails.
Personal Development
Personal development is a critical component to achieving success in the home business profession as there are new skill sets to be learned and implemented. One key factor is adopting a method to vividly imagine the life you seek to manifest – to dream boldly. In my personal experience the method that has produced the most consistent results is a vision board. There are
Developing Your Vision Board
I have sought out and identified two computer based programs that offer a low price, high value and have been utilized and endorsed by leading professionals in our industry. I believe either of these systems will provide you with a true advantage when developing a Vision Board that provides you with the key to harness the power of visualization!
Option 1: Orange Peel Vision Board System
In this video Bob Proctor, Visionary Teacher, Philosopher, and contributor to the film "The Secret" will explain you how you can easily create a powerful vision board using the Orange Peel Vision Board System:
How Are Orange Peel Vision Boards Made?
To Gain Immediate Access to an Overview and samples of Completed
Orange Peel Vision Boards: CLICK HERE
Use Vision Board to create the amazing life you want and deserve, simply by effectively applying "the secret power" of visualization! Read on to discover why Jack Canfield, Bob Proctor, Vic Johnson and many other well known speakers personally recommend Vision Board. Learn about the amazing benefits of this powerful system so you can make an informed decision whether this will be of amazing value to you too. We will explain exactly how it works and why it is so effective. To show you how much Orange Peel believes in their product, they even offer you a 3 months 100% money back guarantee to give you an opportunity to experience the power of our product totally risk free!!
Option 2: Mind Movies
There's no "one size fits all" here. No matter what you decide to put in your Mind Movie, it will be perfect, because it is perfectly YOU! You choose the images that mean the most to you. YOU define the size and shape of the life you want. YOU create your personal Mind Movie, and begin watching it for a few minutes several times a day.
Almost like magic, your heart's desires become an inspiring movie–the most powerful visualization you could possibly achieve is literally right at your fingertips.
What Exactly Are Mind Movies?
To Gain Immediate Access to an Overview of Mind Movies: CLICK HERE
A Mind Movie is a short 3 minute video filled with powerful affirmations, and emotionally inspiring images. By watching this video twice a day you are commanding the universe to bring you the people, and resources required to make your dreams a reality. Thousands of people have already discovered the life changing power of Mind Movies, and have decided to make their own.